Our wine shop and tasting hall in Ormož represents the wine tasting centre of the Ormož wine region. The interior design is linked to similar activities in the region, as the wine road, home cottage trade and fruit growing.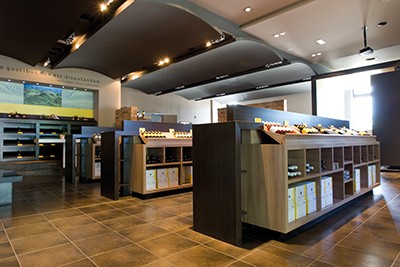 The tasting place has been functionally divided into different sections. The bigger part of the hall with a bar is meant to host larger groups. The smaller room is set aside for business meetings, workshops or tastings for smaller groups. The hall can accommodate up to 50 people. We are happy to organize individual and group tastings with our sommeliers or winemaker. Part of the hall has been arranged as a small store, where our wines can be bought, fitting for every occasion.
The wine shop is open on working days from 8.00-16.00, Saturdays from 8.00 - 12.00. Groups are always welcome, however please make reservations at least 2 days before arrival. 
Please feel free to contact us for your individual wine tasting and cellar tour. We will be delighted to offer you a personal tasting and tour.
Vinoteka Ormož
Kolodvorska 11
2270 Ormož
T: +38627415725
E: turizem@pfwineries.com