PUKLAVEC FAMILY WINES COMPANY ACCELERATES SPARKLING WINEMAKING WITH NEW INVESTMENT IN FERMENTATION TANKS
13/09/2023
Puklavec Family Wines, a prominent wine producer in Slovenia, officially unveiled its latest investment of €400,000. T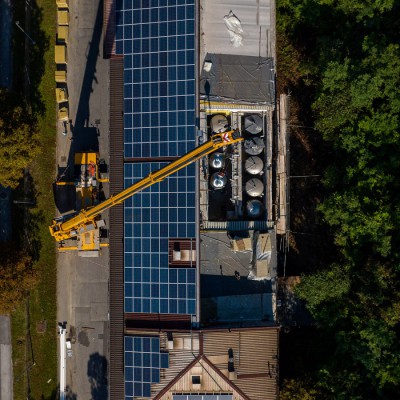 PUKLAVEC FAMILY WINES COMPANY ACCELERATES SPARKLING WINEMAKING WITH NEW INVESTMENT IN FERMENTATION TANKS

Puklavec Family Wines, a prominent wine producer in Slovenia, officially unveiled its latest investment of €400,000. Through the four new tanks installation, the company sets to augment its sparkling wine production capacity by an additional 300,000 bottles. Ultimately, the winery would achieve a total annual production of up to 1.3 million bottles.
Recently, the winery placed a strategic emphasis on sparkling wines, and this focus clearly manifests itself in the sales growth in this segment. Since 2020, they have witnessed a remarkable 70% surge in sparkling wine sales, primarily within the domestic market. Their flagship sparkling wine, Muškatna penina, maintained its popularity among Slovenian consumers for several years.
The fruits of their dedicated labour and well-defined pursuits have led to the complete utilization of their sparkling wine production capabilities. Therefore, the company has made sound investments to enable higher production volumes, thus satisfying the ever-growing demand in the domestic market and providing a pathway for expansion into international markets. This significant acquisition will enhance their adaptability, enabling swift responses to consumer demands, fostering the development of innovative products, and ultimately facilitating the production of sparkling wine at a lower cost through economies of scale. That, in turn, will bolster their competitiveness in foreign markets, inundated with renowned sparkling wines from Spain and Italy, such as Cava and Prosecco.
Tatjana Puklavec, the company's owner, asserts: "We firmly believe that this new investment and increased production capacity will enable us to introduce our sparkling wines to an even broader clientele and markets worldwide. The remarkable growth of our sparkling products in recent years attests to the alignment of our wines with market trends".
The expanded production capacities are also welcomed by their oenologists, as they will have the liberty to leave the sparkling wine in the tanks for a more extended time, yielding better effects on effervescence, more refined bubbles, and even more pronounced aromas.